Elevate Your Travel
Stories with Interactive
3D Maps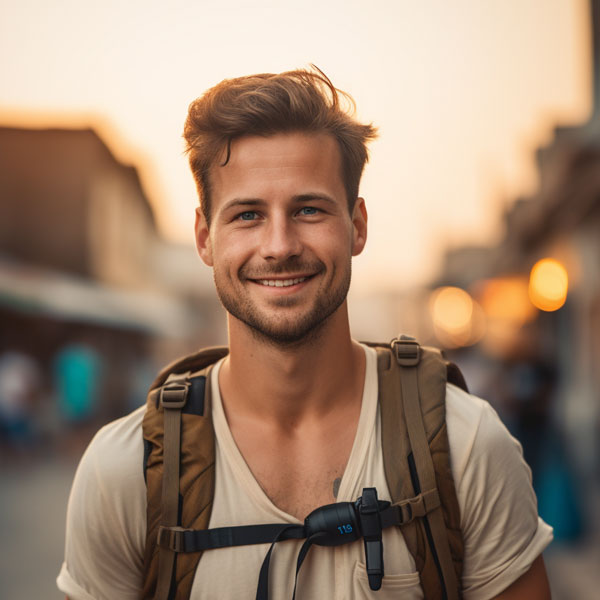 Travel Blogger Pablo Turner
"From Cuneo to Nice in 7 Days"
How a Travel Blogger Explores the Italian-French Coast with Interactive 3D Maps
Join us on a virtual journey along the stunning coastline of Italy and France as we take you on an immersive adventure from Cuneo to Nice in just 7 days. As a dedicated travel blogger, we're excited to show you how we leverage the power of interactive 3D maps to bring our travel experiences to life like never before.
Now, give it a try yourself: rotate the 3D map, tilt it, and then click on the 3D pins on the map to learn more about each stop of the journey!
About this interactive
3D map
This example map showcases a fictional travel story from Genoa in Italy along the coast to Nice. Along the route, various stations marked with 3D elements can be clicked to access additional information through pop-ups. The 3D map was generated using a GPX file. The map's texture was replaced with the hi-res texture from the Heightmap Texture Set to enhance details and improve quality when zooming in. Additionally, the texture was retouched and color-adjusted using an image editor.
By harnessing the capabilities of the interactive 3D map, we're able to transform our travel tales into dynamic visual narratives. Our readers not only read our words, but they also embark on a virtual journey, feeling the essence of each destination through our carefully curated map. Join us as we break the boundaries of traditional storytelling and invite you to be a part of our travel experiences, one interactive map at a time.
Utilize our Exporter feature to generate a high-resolution image from your final 3d map, boasting dimensions of up to 4000 x 4000 pixels, as PNG file with a transparent background.
Seamlessly integrate this image into your blog posts or social media content, effortlessly blending it with other graphics. But wait, there's more! You also have the option to export your map as a glTF 3D file, STL, or OBJ 3D print file. And if that's not enough, easily access high-resolution textures and heightmaps for further customization.
The possibilities with our map exports are absolutely limitless. Unleash your creativity and take your travel narratives to the next level. All these export options are available to you, making your journey in the world of maps truly boundless.
📷 Key Features for Travel Bloggers
Personalized Visual Storytelling
Create captivating narratives by placing interactive 3D icons, pins, and text on your map, guiding your readers through your journey in a dynamic and engaging way.
Immersive Popups
Craft immersive popups for each icon and pin, adding in-depth details, stories, photos, and links to enhance your readers' experience and connect with them emotionally.
Seamless Blog Integration
Easily embed your interactive 3D map into your blog posts using our WordPress plugin or iframe. Maintain the design and aesthetic of your blog while adding a new layer of interactivity.
Vivid Image Exports
Export high-resolution images of your 3D maps in PNG format, allowing you to beautifully showcase your travel routes and locations in your blog posts, social media, or even print materials.
Authentic Travel Engagement
Provide your readers with a unique way to explore your journeys. Let them interactively follow your footsteps, discover hidden gems, and experience the destinations through your eyes.
Enhanced Visual Impact
Elevate your storytelling with a visually captivating map that complements your writing, making your travel content more engaging and memorable.
What you say
about our 3D maps
"Crafting compelling travel stories is my passion, and interactive 3D maps have become my storytelling canvas. Through pins and popups, I can dive deep into the cultural fabric of each destination, giving my readers a richer understanding of the places I explore. It's like taking them on a virtual journey with me."
"Interactive 3D maps have taken my travel blogging to a whole new level. With the ability to showcase destinations with pins and immersive popups, I'm able to transport my readers to the heart of each place."
As an adventure enthusiast, I'm always looking for innovative ways to share my experiences. Interactive 3D maps have become my secret weapon. They allow me to walk my followers through epic hikes, bike trails, and hidden gems. The popups let me share insider tips, making my blog an invaluable resource for fellow adventurers.