What's the Heightmap and Texture Set
Included in the download are the highest possible resolutions of the chosen texture (satellite, OSM, OTM) and a fitting 8 bit or 16 bit grayscale heightmap, both as PNG file. With this set its possible to create a 3D terrain in common 3D programs (e.g. Blender, MAYA, 3D Max, Cinema4D, ZBrush), game engines (e.g. Unity, Unreal) or in Photoshop with the aid of our 3D Map plugins (3D-Mapper, Atlas and Terrain).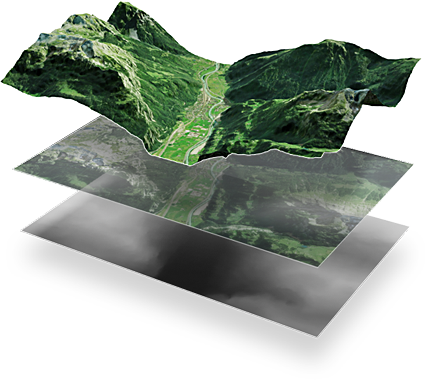 Replace Low-Res Image Sets
You can also use these high-res images in the Embed 3D Map set and our WordPress plugin to replace the low-res versions. The loading time will increase afterwards, but the quality and details of the 3D map will appear much better.
Use Heightmaps and Textures in your Designs

Export the 3D map with high resolution heightmap and texture as a 3d file and use it in other 3D software. GLB or glTF can be selected as the export format.
In this example you see a 3D map of Austria rendered in Blender. It was imported with our free Blender add-on. Click to enlarge.
Frequently Asked Questions